Landscaping Services for Homes and Businesses in South Eastern Wisconsin
Landscape Design and Architecture Creating Beautiful Outdoor Living Spaces

When you look at your backyard, what do you see? Grass and a few trees, maybe some flowers if you were proactive in your gardening this spring. Now for the tough question - What do you want to see? A uniquely shaped in-ground pool, complimented by a stone patio, steps, a grill station and bar? Whether this is your landscaping dream, or something else entirely, Durham Hill will make it a reality.
Our award winning landscape architect, Thomas Earl, and his team of landscaping professionals have over 30 years of experience designing and constructing beautiful outdoor areas. From small projects like a patio or gazebo, to full outdoor living areas with a kitchen or waterfall, Durham Hill will create a design that is beautiful, maintainable, and perfect for relaxing and entertaining guests.

Transforming Your Property with Hardscape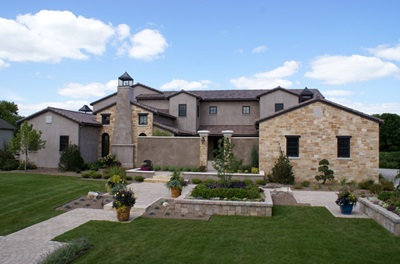 Homeowners and businesses alike frequently choose Durham Hill for their hardscaping needs. Our residential hardscape services include designing and constructing stone and brick patios, walls, decks, walkways, steps, stone water features, pergolas, and much more. Whether your hardscape features are part of an outdoor room design, or you simply need a retaining wall installed to manage water problems, we'll ensure the job is done right from start to finish.
Our hardscaping services are perfect for commercial properties too! If you're looking to expand your restaurant with an outdoor sitting area, call on Durham. We can design and install a stone or brick patio meeting your exact space and budget demands. We can also incorporate water features like a waterfall or fountain for the addition of natural sound and movement.
Have a parking lot or driveway with frequently standing water? We can solve that problem too! Our permeable paver services will add a creative touch to your commercial property while eliminating water retention issues.
General Landscaping Services & Lawn Care
While Durham Hill specializes in designing outdoor living areas and hardscapes, we're passionate about everything landscape – including small landscaping projects and maintenance contracts. Not looking for an extravagant outdoor room, just something simple to relax in? We'll build you a garden and reflection space instead! We use our planting expertise, cultivated while we operated as a nursery as well as landscaper, to build the most beautiful gardens. From color pallets to season of bloom, when you choose Durham Hill, you'll enjoy a cascade of color and fragrance when lounging in your backyard – spring, summer, and fall. You can also incorporate a small pond, patio, or stepping path for added visual appeal and leisure.

Is your lawn dead? Are your bushes overgrown, or existing hardscape features falling apart? Durham Hill is here for those needs too. We provide the best in hardscape repair and replacement – including cracked patios, bulging retaining walls, and uneven pavers. We'll also come in and revitalize your property if it's been neglected for too long. And you can always count on Durham for general lawn care services, including spring and fall clean up, grass cutting, tree trimming and more.
Contact Durham Hill for landscape and hardscape design, revitalization, or maintenance today!