Winter Services
Snow Removal for Commercial Properties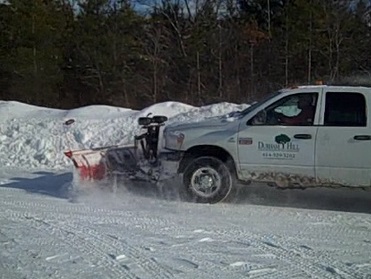 While Durham Hill specializes in landscaping, we spend the off season providing winter services to businesses, removing snow from their commercial properties. With reliable, high quality equipment plowing the way, Durham Hill provides winter services with the goal of keeping your commercial property clean and your employees and customers safe.

Located in Wisconsin, we know all too well the harsh conditions of our winters – snow, freezing temperatures, more snow, in patterns continuing for months on end. Our snow removal services will minimize the risk of costly accidents by clearing away all snow from your parking lots and driveways, and salting them accordingly.
If you have a grocery store, corporate office, shopping center, industrial facility, medical facility, or any other commercial property with a large parking lot or long driveway – call on Durham Hill for winter services you can rely on every time it snows!
Holiday Lights Enhancing the View of Your Business
Have a business on the road side, or a storefront frequently visited by clients? Light their way this December with Holiday Light Installation Services from Durham Hill. Holiday lighting is just a small part of Durham Hill's services, but we enjoy it none the less. We'll design a lighting layout to spread holiday cheer and bring more smiling customers into your business. It will also bring joy to your employees.
Contact our snow removal experts today to learn more about our winter services.