Contact Durham Hill
Schedule an Appointment with our Landscape Architect or Get a Quote on Your Landscaping Needs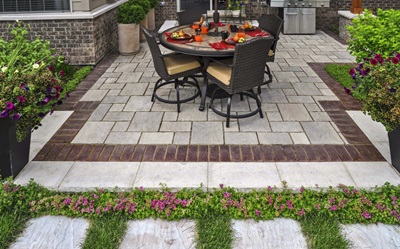 Contact our landscapers for a patio of your own like this!
If you're a homeowner looking to enhance your backyard with an outdoor living space, choose Durham Hill. Our Landscape Architect will create a unique design incorporating your ideas and desires into a layout to perfectly satisfy the demands of your space and budget. From stone patios, retaining walls and pavers, to kitchens, fire places, and pool decks – Durham Hill does it all, and does it better than the rest. We even handle the smaller landscaping projects like gardens, reflection spaces, revitalization, and lawn care.
Durham Hill also serves the landscaping needs of businesses and commercial properties. From spring and fall clean up to lawn maintenance and snow removal, we handle your every need. Even if you're looking to enhance your parking lot with pavers or restaurant with an outdoor patio / sitting area – call on Durham Hill!