Outdoor Living Spaces
Landscape Design Genius Brings Beauty and Comfort to Your Home's Backyard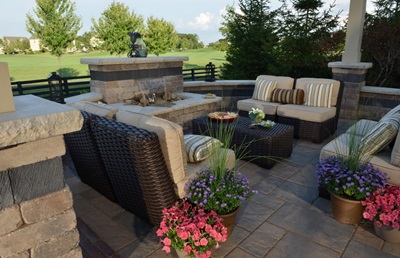 Don't settle for a bed of grass when your backyard can be transformed into an attractive and tranquil outdoor living space. Durham Hill's specialized landscape architecture and construction services will bring your vision to life. From outdoor kitchens, fire pits, and stone patios to garden sitting areas, paved walkways, and full designs combining these aspects alongside a pool, Durham Hill can do this and everything in between. Our experience is vast, expertise trusted, and reputation for outstanding landscape designs glowing – choose Durham Hill today!
With the Durham Hill touch on your landscape, your backyard will be an inviting extension of your home and a great place to entertain guests.

Outdoor Kitchens & Stone Fireplaces
Looking to build a full outdoor kitchen? Maybe just a grill station or fire place? From fire pits to swim up bars, Durham Hill builds it all!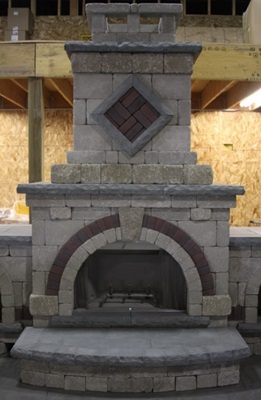 There are a multitude of different options to choose from and questions to ask when building an outdoor kitchen, including:
Floor area size
Depth and number of drawers and shelves
Free standing or built-in grill; number of grills
Refrigeration options for food storage
Electrical boxes (quantity, location, etc.)
Seating
Countertop Dimensions
Sink addition
Roof overhang
Counter material; base material
And so many more factors to consider
Don't let your options overwhelm you – Durham Hill will gain a thorough understanding of your kitchen or grill station desires, and handle all the details for you.
If you're simply looking to integrate a stone fireplace into your existing patio or outdoor living space, or want to build a new seating area and fire pit, Durham Hill is the best choice in landscape design and construction!

Add a Splash of Life to Your Landscape with Water Features

Water features take a great outdoor room design and make it extraordinary, turning your backyard into a relaxing oasis. Durham Hill is highly regarded for our work designing unique water features, both indoors and out. We continually exceed our clients' expectations for outdoor water features including:
Ponds
Waterfalls
Fountains
And more
You dream it, we'll build it!
Want to add a small pond and waterfall to your backyard garden? Choose Durham Hill. Looking to enhance your patio with an outdoor water fountain? We've got you covered. Want to make your home's indoor entrance area more contemporary with a rock waterfall and stone pool? We can handle that too!
A water feature is a great addition to your outdoor living space. The blend of plants, stone, and water creates a soothing experience. If you need help choosing a water feature, contact our Muskego landscape designers. They will find a water feature suiting your needs, lifestyle, and budget. Combining experience, creativity, and the latest water feature methods, our team ensures a modernized property for any client.
Outdoor Lighting
Lighting is a vital, but often overlooked, component of every outdoor living area. When you choose Durham Hill for your landscape design and architecture needs, the end result will be so beautiful you'll want to spend your nights as well as days lounging in your carefully designed outdoor seating area. So we'll light your way accordingly!
Landscape lighting fixtures for paths, gardens, trees, pools, patios, and more will be considered when designing your outdoor living space. You can be sure every detail, no matter how small, will be taken care of when choosing Durham Hill as your landscaper.
Commercial Outdoor Space Design

Looking to improve your commercial property or business with hardscape features? From building outdoor sitting areas on restaurants, to brick pavers for parking lots, to outdoor living spaces for employees to relax during lunch, Durham Hill does this and everything in between. For The Rock in Milwaukee, we designed and built their Umbrella Bar area. Our design included a natural stone paved patio, a small pond with matching waterfall, wooded bar area, outdoor fireplace, lighting, and a surrounding cement wall. Because there are no other places like The Umbrella Bar in Wisconsin, it was imperative the project be completed on time for the summer crowd. Durham Hill did exactly that. Since the project's completion, thousands of people have enjoyed drinks and food in the social area built by Durham.
For your commercial living space needs, choose Durham Hill.