Landscape Design & Architecture
Turn Your Yard into a Beautiful, Comfortable Outdoor Living Space
Durham Hill is the premier Landscaping Company in SE Wisconsin, specializing in landscape design and architecture. Our fearless leader and the founder of Durham Hill, Thomas Earl, puts a unique touch on every landscape we design. With over 30 years of experience, Durham Hill will turn your plain, boring backyard into a beautiful sanctuary, mere footsteps from your home.
Durham Hill's landscape design and architecture services include, but are not limited to, the following aspects:
Fire Pits
Pergolas
Gazebos
Flowers and Plants
And more (including plants and trees)!
The Stepping Stones to Your New Sanctuary
The first step to planning your outdoor room or living area is to contact Durham Hill and schedule an onsite visit with one of our architects. They will evaluate your landscape, listen to your landscaping desires, and share their initial ideas for your soon to be outdoor get away.
Streamline this process by using our Plan Your Project form – tell us where you're located, what you want in your outdoor living space, and even upload an image of your backyard so our landscape architects knows what they are working with.

Transforming your backyard has never been easier – choose Durham Hill today!
Patios and Walls: The Hardscaping Side of Landscape Design
A fundamental part of landscape design is the integration of hardscape elements. Hardscape, commonly referred to as hardscaping, is the use of hard materials to build outdoor landscaping projects - materials include stone, brick, concrete, wood, and metal.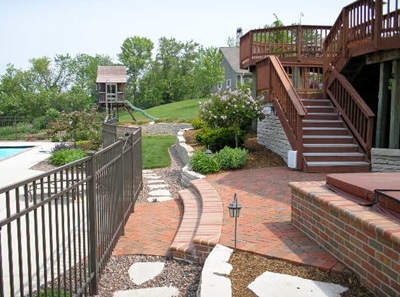 Durham Hill has a long history of award winning hardscape design work. We'll put our experience and landscaping design skills to work for you, building:
Stone walk ways
Brick patios
Concrete steps
Retaining walls
Wooden gazebos
And so much more!
Our reputation is based on beautifully designed outdoor gathering spaces. We use the highest quality materials from leading manufacturers to make your landscaping dreams a reality. Maybe you want to spruce up your existing stone patio with a matching fireplace, install an in-ground pool and build an outdoor paradise around it, incorporate a pond and waterfall into your garden, or build an outdoor sitting area for your restaurant – no matter your project, Durham Hill will design a landscape enhancing your home or business.
Trees, Bushes, Flowers, and More Designed for Your Unique Landscape
An essential part of every Durham Hill landscape design is the incorporation of plants, flowers, bushes, and trees. While you may not need a full garden, ornamental plants compliment any outdoor living space. Maybe you are not looking to add hardscape features to your landscape, you simply want to spruce it up with more plant life. Our Muskego landscaping company will create a landscape design meeting those exact needs, integrating new trees and other plantings into your property to produce a tranquil getaway. Be surrounded by nature when you choose Durham Hill.
Commercial Landscape Design Services
While Durham Hill works more frequently with residential landscapes, we enjoy designing commercial areas as well. Do you have a store front with frequent customer visits? Maybe you want to redo your driveway and/or parking lot with pavers. Thinking of expanding your restaurant with an outdoor eating area? We'll install a natural stone patio for you, with lighting, water features, and even a fireplace to boot! Whatever your commercial landscape design needs, count on Durham Hill!
When The Rock in Milwaukee was looking to open the only outdoor Umbrella Bar in Wisconsin, they called on Durham Hill. We designed and constructed the entire area overlooking their baseball fields – natural stone patio, water fountain, outdoor fireplace, the bar area and more. From rock placement to plant selection, every inch and detail was thoroughly thought out and executed to achieve exactly what MKE Sports wanted – a beautiful outdoor bar area perfect for families watching their kids baseball games, nightly parties for friends, and a great escape for corporate lunches.
Call Durham Hill to discuss your commercial landscape project today!
See Your Outdoor Living Space in 3D before Construction Begins
During your initial meeting with one of our landscape architects, they will gather all of the information needed to understand your outdoor living space ideas, and get photos of the area being redesigned. Once the design is complete, we upload it and the images of your backyard into a 3D Landscape Design Software, brining your hardscape, landscape, and/or outdoor living space to life before construction begins. You'll know you've made the right decision and are getting exactly what you want with our 3D design software
Here is a 3D design preview for one of our past projects:
Occasionally we partner with specialized professionals for more complex construction projects, like installing pools and hot tubs. However, the design, planning, project management, and outdoor landscaping work is all done by Durham Hill.
Estimates or Site Visit- No Charge
Site Evaluation (grade determination, measurements, existing site material locations)- $75/hour
Architectural Drawings (3 dimensional plan view)- quoted upon request
Your landscaping vision is our mission. Contact our landscape designer to start your outdoor living project today!